(updates: 9/30/15 new source for stacked points; 6/21/14 diamond point source & hand tool; 5/14/13 spade availability; 8/29/12 point driver details; 7/25/2012 point driver sources; 7/19/2012 spade-type sources)
Glazing points are small metal fasteners that hold glass panes in the window sash.
Video: Setting glazing points by hand and with a point driver.(see minute 1:36)
Glazing Point Types
-- Push Points (aka Tab Type):
cut and stamp-formed out of flat sheet metal, such as Hyde Tools #45760 (flat and rectilinear, which seats well into the corner between the glass and the wood of the glazing dado), and Fletcher 08-711 #7 (flat and rectilinear), and Lakeshore Easy Points (curly-form, which take more putty to cover over) Tab types are common and readily available at your local hardware stores. If you have a very narrow line of glazing you may have to trim this type of point with a pair of pliers and tin snips, or use a smaller glazing point such as the spade type.
Supplier, galvi. steel: CR Laurence for T-type in one-pound bulk
http://www.crlaurence.com/crlapps/showl ... uctid=5749
Supplier, solid zinc: Bostwick
http://e-catalog.bostwick-braun.com/Cat ... mNo=639932
-- Triangle Type: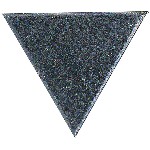 the old-time traditional, cut from flat sheet metal, made
of zinc or steel, such as Fletcher Glazier's Points 08-511 #2, probably a special order at your hardware store. Or, make your own by cutting them with tin snips from a piece of sheet metal, just like the old-timers did.
-- Pin Type:
A wire rod is crimped about every 5/8". You bend over a 5/8" segment at a right angle and then drive the segment into the glazing rabbet with a small hammer, which does not break the glass because you gently slide the hammer along the surface of the glass. This method is common in Europe. Learn more at this discussion:
http://historichomeworks.com/forum/viewtopic.php?t=1291
Source:
http://www.solventfreepaint.com/accesso ... lazingpins
-- Diamond Type:
Diamond points come in a "stack" that is loaded into a point driver. When the driver is operated an individual diamond point is shot out into the neck of the glazing rabbet. Diamond points are made in two common sizes; No. 1, which is about 3/8" long (such as Fletcher Terry 08-111 Glazier Points Diamond Shaped approximate 5000 per box) and No. 2, which is about 1/2" long (such as Fletcher Terry 08-211 Glazier Points Diamond Shaped approximate 4000 per box)
Diamond and Triangle Stacked Points, C.R. Laurence,
Be sure to get "stacked" points for use in your point driver, and not loose points, which cannot be loaded into a driver.
Source: C.R.Laurence at Amazon.com
http://www.amazon.com/s/ref=nb_sb_noss? ... ked+points
Tool for setting diamond (and other style) points by hand:
CRLaurence/Fletcher Push Mate Point Setting Tool
Source: Amazon.com
http://amzn.com/B000MR2JBE
Sources for point drivers:
The old standard Fletcher No. 5 point driver.
s-l225.jpg (8.13 KiB) Viewed 19776 times
Shoots No. 1 (3/8") and No. 2 (1/2") diamond points, and No. 5 (11 mm) Stacked Triangle points.
Sets the points about 1/32" up off of the pane. Panes must be at least 6 7/8" across to set this point driver flat on the pane.
Supplier: The No. 5 point driver is no longer made by Fletcher. It frequently comes up on eBay,
https://www.ebay.com/sch/i.html?_from=R ... her+-frame
Red Devil PD1
This driver sets the points directly on the glass pane. Uses 3/8" Diamond Points.
CRL Universal Point Driver, Catalog Number: PD9
All Metal Design, Drives 3/8" Diamond Points only. The metal frame has rubber pads that set on the glass. Adjustable strike force allows the user to drive the points deeply enough in hard or softwood frames to hold with 1/8" over the glass. Only accepts CRL 1P, 1B, and NW1P points. The bottom of the PD9 Point Driver must be held in perfectly flat contact with the glass surface when fired. Failure to do so will result in Points dropping through the bottom of the driver when the trigger is activated, possibly cracking the glass. Panes must be at least 6 1/8" across to set this point driver flat on the pane.
I now have a PD9 and am testing it.
Features:
-- the form factor is similar to the old No. 5, but there are significant differences
-- all metal construction, assembled with screws, nuts & bolts & E-rings. so it could be taken apart for servicing & cleaning (no word from CRL if replacement parts are available)
-- shoots points flat against the glass, this means that the "sole" of the "shoe" also slides on the glass during operation. (possibly more likely to crack the glass than with the old No. 5)
-- shoots ONLY 3/8" (#1) diamond points (compared to my old No. 5, which shoots 3/8"diamond points, 1/2" diamonds and triangle points)
-- the shoe is made of bent and hardened steel (compared to the old No. 5, which has a fabricated and welded shoe)
-- while the force of the drive can be adjusted, the range of adjustment seems quite limited, and really seems to act more as an adjustment to get the lever-release mechanism to release consistently
-- the details of construction suggest to me that this unit could be modified to drive the point further, or not so far, into the glazing rabbet. If I decide to do this I'll report on it here.
The PD9 has done a good job on ten 6-lite sash. Of course, no word yet on long-term durability and performance. The general character of the PD9 suggests to me that it will not be as durable as the old No. 5.
Manufacturer & Wholesale Supplier: CRL
http://www.crlaurence.com/crlapps/showl ... oupID=2815
(about $120 +shipping)
Retail Supplier: Amazon
http://www.amazon.com/CRL-Point-Driver- ... B006JFN5FW
(about $158 +shiping)
Even though I now have a PD9, I will now shop for another old No. 5, so I will have two drivers in case one conks out. I prefer the No. 5 because it places the points slightly off the glass. In the past few years I have seen two window projects done ten and fifteen years ago where more than a third of the windows have have cracks in the original 200 year old glass panes that relate directly to, and appear to have been caused by, points set directly on the glass. The cracks developed a few or several years after the glazing. The reason I'm getting some of the newer point drivers is to test them out to see if they break glass. I've never had broken glass using the No. 5.
CRL Framemaster Point Driver, catalog #FM075
This point driver does not shoot traditional diamond or triangle points. It shoots picture framing points. The magazine holds 100 points and is reversible with a short nose for 3/8" points. Uses only FT895 5/8" points and FT898 3/8" points. Plastic frame with tension adjustment screw for soft or hard woods. Sets points directly flat on the glass.
Manufacturer:
http://products.crlaurence.com/crlapps/ ... uctid=5759
Source: Blick Art Materials
http://www.dickblick.com/products/fletc ... ming-tool/
Fletcher-Terry GlazierMaster Point Driver
This point driver does not shoot traditional diamond or triangle points. It shoots picture framing points.
I am not counting on the quality Fletcher-Terry hand tools have had for over a century. Between 1999-2009 Fletcher-Terry was reorganized to dramatically reduce the cost of producing their tools, which are now made by iSun in China. Part of their strategy to make cheap products was to combine several separate products into one so they could interest the mass-production factories in China. Here,
http://www.fletcherviscom.com/FPointDrivers/main.html
you can see how all of their point drivers look the same. One thing many of us tool users know is that munti-purpose tools seldom do as good work as specific purpose tools. Let me know if you get one of these and what you think of it.
-- Spade Type:
Has a spade-shape with a long sharp point and a right-angle bracket formed on one side. The long strong point goes easily into the wood. The bracket that goes against the neck of the glazing rabbet and the stub that goes against the glass are small. Small parts are important when the shoulder of the glazing rabbet is particularly narrow, say less than 1/4", because the line of putty must be narrow to match the width of the shoulder and still cover over the glazing point with putty. Best for single-lite sash because the long point holds the heave pane well. On some multi-lite sash the long point could go through a thin muntin rib and crack the edge of the pane on the other side.
Spade type product names and descriptors:
Past:
M15 Glazier Points
2 1/2 Push Type
2-1/2 GALV PUSH TYPE GLAZIER P
#2 1/2" Push Type
Past:
(5/2013: Hillman is now apparently packaging the regular tab points under this part number.)
Name Small Glazier Points
Size Small
Packaging Snap-Pak™
Finish Zinc Plated
Quantity 1.00 oz
Master Pack 6
UPC 037504577011
Hillman Item # 122632
made by Hillman Group:
http://wedo.hillmangroup.com/item/nails ... &plpver=10
(not a supplier, do not try to buy from them. Hillman is apparently packaging the regular tab points under the spade point part number.)
Sources for Spade-Push Type:
Spades are now becoming more difficult to get. Several of the common sources no longer have them.
--Bostwick-Braun Co.:
http://e-catalog.bostwick-braun.com/Cat ... mNo=328022
I think you may have to set up a commercial account to use Bostwick-Braun. Your hardware store may be able to order here. Let me know if you order from here and how it goes. Make a small test order first to assure you are getting the true spade-type points.
Glazing Point Materials
Modern glazing points are made out of zinc plated steel. The zinc helps protect the steel from rusting. Fletcher brand points are made of C-1010 Steel with electro-Zinc coating. Before the mid-20th century points were often made of solid zinc, which is more resistant to corrosion than steel. Zinc points are not available today unless you make your own. For points in wood sashes on ocean going vessels in the 18th and 19th centuries the use of marine bronze was a standard of the Royal British Navy--only the best for the King's (or Queen's) navy.
Making Your Own Points
In the old days glaziers made their own points and I have done it myself on occasion. All it takes is a scrap of sheet metal and tin snips. To make triangular points, first cut strips that are 5/16" to 3/8" wide. Then snip off the points with angled cuts, flipping the strip over after each cut. If your snips leave the points curled a bit, you might have to tap them flat with a hammer on a piece of flat steel.
I recall making 30 points per minute without pushing it.
If you look carefully at some of the old points you pull out you may see they have the variability of hand-made goods. If you've been to one of my training sessions you've seen some of these hand-made points from the early 19th century.
Point Driver Notes
The Fletcher Framemaster point driver sets the points right down on the glass, which is great for artwork. Some window specialists swear by it too.
The Fletcher No. 5 sets the points about 1/64" up off the glass. I like this space because putty fills it and protects the glass from stress and breakage. When George Hubbard invented the point driver he spaced the point up off the glass for just this reason.
George Hubbard was a wide ranging inventor and entrepreneur based in Windsor, Vermont. Hubbard invented the diamond-shaped glazier's point and the tool to set it about 1880. Next time you're in Windsor stop in at the American Precision Museum and see George's patent models and several early production point drivers. They are exactly like the Fletcher No. 5 we all know and love.
To get your point driver to set the points a little deeper hold a big block of iron or steel against the other side of the muntin, stile or rail. A block about 2" diameter by 5" long works fine. An ordinary 20oz. framing hammer is too light. A little 5lb. sledge hammer with a short handle works, but you have to grind off the face so there is a crisp right angle or you may end up with split muntin ribs. This keeps the thin muntin from bouncing away from the point, which absorbs some of the energy of the driver. Be careful though on thin muntins; if you drive the tip of the point all the way through a muntin it may strike the edge of the glass on the other side and break it. Vary how deep the point goes by the size of the steel block, the smaller block has less mass and the point goes in less.
Fletcher stopped making the No. 5 point driver in 2009, so new ones are no longer available. eBay is a potential source, that's where I got mine.
Some window specialists use the Fletcher FrameMaster point driver, which is still available. It drives arrow-shaped points that are made for picture framing.